On April 4, 1922, the Borough was incorporated.

US Census QuickFacts
Paramus Wikipedia Page
The area that became northern New Jersey was occupied for thousands of years by prehistoric indigenous peoples.  At the time of European encounter, it was settled by the historic Lenape people who gave this land its name.  One of the earliest written versions of the name in 1708 called it Parames.  Later it was referred to as Perampsus.  Experts on the Lenni Lenape language say that Perampsus means literally "where there is worthwhile or fertile land" – the land was fertile; maize or corn was grown here; and wild turkeys were found in abundance.  The Lenape language word for the area was anglicized to become the word Paramus.  A large metal statue of a wild turkey in the Paramus Park mall commemorates this history.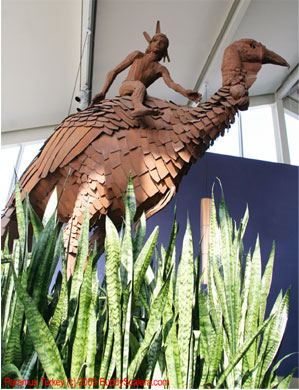 Albert Saboroweski, whose descendants became known by the family name Zabriskie, emigrated from Poland via the Dutch ship The Fox in 1662.  He settled in the Dutch West Indies Company town of Ackensack, today's Hackensack, where he started a family.  A son, Jacob, was captured by the Lenape and held for 15 years.  When he was returned to his family, the Lenape explained to Saboroweski that they had taken the child in order to teach him their language so that he could serve as a translator.  They granted Saboroweski approximately 2,000 acres (8.1 km2) of land which became known as the Paramus Patent.
During the American Revolutionary War, the county included both Tories and Patriots, with Patriots greatly outnumbering Tories.  Although no major battles were fought in Bergen County, Paramus was part of the military activity, as colonial troops were stationed in Ramapo under the command of Aaron Burr.  In 1777, the British raided the Hackensack area and Burr marched troops to Paramus, from where he attacked the British, forcing them to withdraw.  General George Washington was in Paramus several times during the War: December, 1778; July, 1780; and, December, 1780.  Following the Battle of Monmouth, Washington established his headquarters in Paramus in July 1778.  Over the advice of his staff, Washington moved his headquarters to Westchester County, New York.
A section of Paramus known as Dunkerhook (meaning dark corner in Dutch) was a free African-American community dating to the early 18th century.  Although historical markers on the current site and local oral tradition maintain that this was a slave community, contemporary records document that it was a community of free blacks, not slaves.  A group of houses built on Dunkerhook Road by the Zabriskies in the late 18th / early 19th centuries were the center of a community of black farmers, who had been slaves held by the Zabriskie family.
At the turn of the 20th century, there was no town or borough specifically called Paramus.  There was only Midland Township, which had been formed in 1871, but which had rapidly dwindled in size and population as sections of it broke away to establish their own towns.  By the 1910's, only Paramus and Rochelle Park, as they are referred today, remained.  Rochelle Park was becoming a settled suburb, bordering, as it did, the more metropolitan Hackensack.  Paramus, however, was still a rural area with some 1600 residents.  Midland Township broke up, causing Paramus to separate from Rochelle Park, because of a disagreement about the public schools – residents in Rochelle Park wanted to consolidate the schools into one school in that part of the township giving Paramus students a lengthy commute.  Residents of Rochelle Park blamed a proposal to install lights on their streets, toward which the Paramus farmers did not wish to pay taxes, for the disagreement and subsequent division of the township.
Often referred to as "the Crossroads of Bergen County" because it is crossed by New Jersey Route 4, New Jersey Route 17, and the Garden State Parkway, Paramus' history began with a different type of retail.  It was one of the truck farming areas that helped New Jersey earn its nickname as the Garden State.  By 1940, Paramus' population was just 4,000, with no town center and 94 retail establishments.  Although the opening of the George Washington Bridge in 1931 and the widening of Route 17 and Route 4, made the area accessible to millions, it was not until the 1950's that massive development hit this section of northern New Jersey.
During the 1950s and 60s, Paramus, lacking any master plan until 1969, was redeveloped into two shopping corridors when its farmers and outside developers saw that shopping malls were more lucrative than produce farming.  It was a developer's dream: flat cleared land adjacent to major arterials and accessible to a growing suburban population and the country's largest city – with no planning restrictions.  New York had a state sales tax, but New Jersey had none, so with the opening of Manhattan department stores in the Bergen Mall (1957), the Garden State Plaza (1957) and Alexander's (1961), Paramus became the first stop outside New York City for shopping.  From 1948-58, the population of Paramus increased from 6,000 to 23,000, the number of retail establishments tripled from 111 to 319, and annual retail sales increased from $5.5 million to $112 million. By the 1980s, when the population had increased slightly over 1960s levels, retail sales had climbed to $1 billion.
For additional history and facts on Paramus, the following books are available at the Paramus Public Library: Paramus a Chronicle of Two Centuries, Frederick W. Bogert, 50th Anniversary Commemorative Journal 1922-1972 and Paramus, New Jersey, and Applied Natural Resource Inventory. Fritz Behnke's book, "Paramus, The Way We Were" is also available and can be purchased by contacting The Paramus Fritz Behnke Historical Museum at 201-445-1804.